BRAND NEW: "It's astonishing just how easy humongous, straight tee shots can be…"
How A Simple "2-Inch Tweak" Of Your Wrist
Can Add 50 Accurate YardsTo Your Drives...
And Practically ELIMINATE Slices, Hooks,
And Duffed Tee Shots --
For The Rest Of Your Life!
It Is The ONE Easy-To-Learn Secret
That Brings Long Par 4s (Even Impossible Par 5s),
To Their Knees!
From: Doc O'Leary
Head Golf Nut, OHP
To: My Most Favored "e-Hotlist" Member
Dear Fellow Golf Nut:
Prepare yourself.
From here on out, your golfing buddies will fear you -- maybe even hate you – every time you step onto the tee box.
They'll fall silent… hold their breath… and secretly wish you'd slice it 180 yards into the thistle grass. Or twist an ankle in a gofer hole. Or worse.
But that ain't gonna happen. Because after today all your drives will be a thing of beauty. Effortless cannon shots. Long, arrow-straight gorgeous bombs sailing 50 yards further than anything you ever dreamed possible.
And you'll have no one to thank but me.
Because I'm about to "spill the beans" on…
The Most Treasured
"Magic Trick"
In Long-Driving.
It's the secret weapon behind some of the longest drives on record.
I'm talking about Mike Gorton's drives.
In case you haven't been paying attention, Gorton is currently the RE/MAX Super Senior world long drive champion. He's also the only 3-time champion in history ever to win the RE/MAX Open Division… Senior Division… and Super-Senior Division. Which means the Long Drivers of America have…
Inducted Gorton Into The
Longdrivers "Hall Of Fame"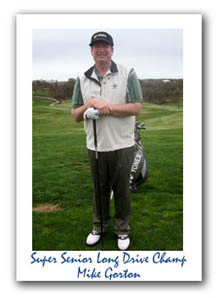 He's hit the golf ball 449 yards in competition. Not bad for an "old man", huh?
Okay, so what's my point? Well just this. Check out that photo of Gorton. Study it carefully.
See any chiseled features?...
Or athletic prowess?...
Or rippling muscles?...
No. I didn't think so. In fact, (as his wife points out), Gorton looks more like he's in training to be a couch potato than any kind of serious athlete.
Yet for the past 25 years he's played against -- and beaten -- thousands of the most powerful long drivers on earth. Young, strong, determined golfers with necks thick as fire hydrants and…
Arms Resembling
Sequoia Tree Trunks.
Most look like they've just ripped open a can of spinach… with their teeth.
And then in strolls Gorton. A regular guy with a beginner's beer belly who enjoys pizza with extra cheese (he hates spinach). And to the shock of everyone, he outdrives the most powerful hitters in the world.
And he's doing it year after year… after year… for the last two-and-a-half decades!
How is that possible?
Well I've got a real shocker for you. The jig's up. After an exhaustive analysis of Gorton's swing (with super-advanced slow motion technology) there's been a stunning discovery. He's crushing such long beautiful straight drives…
With A Simple
"2-Inch Wrist Tweak"
Amazing! The cat's outta the bag. His secret has been revealed.
And it really IS simple too. You don't need to possess any amazing physical properties or have an extra brain lobes or anything like that. Nope, this trick is easy as pie.
And you've NEVER seen anything like this before. Trust me, you won't be able to "figure it out" just watching him hit long beautiful drives. Can't be done, (people have tried). You have to actually be TAUGHT this secret.
And when you see how it's done, you'll slap your forehead head it's so simple.
But here's the thing: I can't possibly explain this trick, (and what you have to do with your wrists), in a written letter. It's like trying to teach you how to ride a bike from an owner's manual. I'd just screw it all up. You've got to SEE what I'm talking about to understand it.
I'm dead serious. I could talk your ear off for another hour and only confuse you, which is the last thing I want to do.
So I used my incredible powers of persuasion to get Gorton in front of the cameras with tape rolling. The result is an astonishing DVD called "Bombin' It Long". It explains everything about this trick.
And boy- oh-boy are you gonna love this. Pull this baby out of your "bag o' nasty tricks" and your startled buddies won't know what to think. They'll probably start spreading vicious rumors that you're all pumped up on steroids, or downing handfuls of Viagra, or some such nonsense. But they'll really have no clue how you're doing it.
And what you learn will STICK too - meaning you will continue to hit deep, gorgeous drives off every tee box…
For The
Rest Of Your Golfing Days!
If you're currently hacking errant shots into the weeds, your drives will suddenly sail off the tee as straight and true as you can point your finger. If you're duck-hooking 150-yarders out of bounds, this secret will make each drive an exercise in wonderful consistency. If you're an "older" golfer who's lost some juice, (and maybe "stuck" at a certain high handicap), you'll be laughing hysterically -- plastering the most humongous, accurate shots of your life.
You'll bring par 5s (and especially those nasty long par 4s) to their knees. It's thrilling to have your game at this level.
And what I'll teach you requires NO athletic ability whatsoever! You do NOT have to make ANY radical change in your current swing. It's just a few simple, natural, adjustments – and one stunningly simple secret – and you will INSTANTLY add 30-to-50 yards, (maybe more), to your tee shots.
Look, you know Gorton's got the goods. He's been PROVING it with money on the line for the last 25 years. But now it's your chance to discover how it's done.
Here's what you need to do now: To get your hands on my brand new "Bombin' It Long" DVD package now just click on the "Add To Cart" button below.

Use your credit card. The price for this secret is just $89. But that's for the general public. As one of my "hotlist" members you're getting a fresh clean $20 off the top. So it's just $69 to you.
That's a real deal… less money than you'd pay for just ONE personal lesson from Gorton. And the only way to get in on this is through this special "hidden webpage". (Please don't pass the special "email link" to this page along to anyone else. Again, this is for my "hotlist" only).
Of course if you'd rather talk with a living breathing person, you can call my office at 1-888-665-6961. Tell the operator you're a "hotlist" member and you want "Mike Gorton's Bombin' It Long" package. Or, if you'd rather pay by check or money order (payable to OHP), just mail your payment of $76 (that's $69 plus $7 shipping and handling) to: OHP Direct, Dept. GBL-300, 606 E. Acequia Ave., Visalia, CA 93292.
The package I've set aside for you will be rush-shipped by return mail. If you hurry, you can have it before your next round of golf.
But hold on… I've added another bonus DVD to your package – for FREE. That's right, NO additional cost!
I call the DVD "My Second Favorite Club – Saving Par". It's mainly about killer wedge-play. You'll definitely want this, because after a good long drive wedge play becomes the most critical part of your game. And unlike most long drive competitors, Gorton is also a darn good golfer on the course. Scratch handicap, even when playing killer courses like Pebble Beach. Held the course record at Sandpiper for seven long years (8 under par, 64).
So you'll be knocking the stuffing outta the ball and then chipping it straight onto the green – even on them most grueling par 4s. Learn the tricks to saving par and birdie no matter if you're buried deep in thick soggy rough. Or from tie lies (where other golfers are practically guaranteed a skulled shot). And easy outs from fried-egg bunker lies… the simple solutions to playing mega-accurate shots from a steep hillside… and solid-gold secrets to super-accurate putting (to keep your scores and handicap low, low, low).
This is how you'll cash in on your gorgeous new distance. Because there's nothing worse than walloping a perfect 312 yard drive and then screwing it up with a bogie. This bonus DVD will make sure that will NEVER happen. Which means from now on you can play with just a driver… a wedge… and a putter. Freak out everyone by showing up with just three clubs. And if you've really got some huevos, you won't even bring a bag! (Okay… not really… but it's a fun thought).
But here's the thing about this deal: You cannot put this off.
I've only duplicated a small number of these special packages – 198, to be exact. Any more and I'd start losing my shirt. There's just enough to cover my "hotlist".
If I don't hear from you in 72 hours -- by midnight of -- the package I set aside for you goes to the guy below you on the list. So you can't mess around. If you wait, you may never get to see this astonishing secret.

My staff is expecting your order. It's an insane madhouse around here this time of year – so don't risk letting this opportunity get away from you.
Sincerely,

Doc O'Leary
P.S. Okay… just a recap. Hit the "Add To Cart" button now, and you'll be rushed:
"Bombin' It Long" DVD package. This is the where you'll learn the simple 2-inch "wrist tweak" to astonishing long, straight drives.
A $20 bill off the top. This is for "hotlist" members only. So please keep that to yourself. Nobody else gets in on this deal.
"My Second Favorite Club" bonus DVD. Wedge-play secrets to turn your fabulous long drives into gold. This incredible instruction is yours for NO additional cost.
But hurry, in just 72 hours, (at midnight on ), this deal is gone. My new DVD, your $20, and your free bonus will all be passed along.
If you're finally ready to consistently bomb laser-straight tee shots that are 30, 40, – even 50 yards further than what you're currently hitting, then missing out on this will be a huge mistake. Don't let that happen.